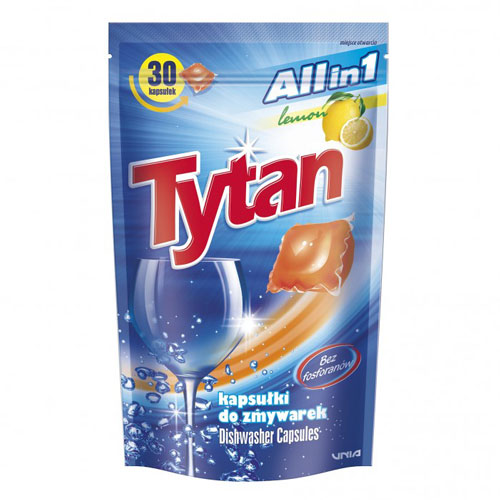 Capsules for the dishwasher Tytan All in 1 30 pcs. provide you with comprehensive action on dishes and dishwasher. They contain everything your dishwasher and dishes need. You will get a high quality product at a good price.
Capsules for the dishwasher Tytan All in 1 30 pcs – description
Our capsules will keep your dishwasher clean and fresh as well as your dishes and cutlery safe. In addition, you will not leave streaks on your dishes and cutlery and they will shine beautifully. Softening water will prevent limescale and other deposits from settling. This is also followed by the fact that there is no need to use salt. In addition, your cutlery is protected against corrosion. All this you get from us in one capsule.
Capsules for the dishwasher Tytan All in 1 – action
Functions of capsules for dishwashers Tytan:
– They effectively clean even at low temperatures, remove difficult dirt, burns and grease.
– They shine: they give the vessels a crystalline shine without stains, stains and streaks.
– They soften water.
– Protects the dishwasher – prevents limescale from forming.
– Protect glass – prevent it from becoming dull.
– Protect steel against corrosion.
– They leave a long-lasting fresh fragrance.
Method of use:
1. Remove any food debris from dishes and cutlery before placing it in the dishwasher. Place the dishes according to the instructions of the dishwasher so that the rotation of the upper and lower spray arms is not obstructed. Make sure the filter is clean before starting the dishwasher.
2. Place the Tytan dishwasher capsule in the dispenser and if it does not fit, place it on the bottom of the dishwasher.
3. Seal the dishwasher door tightly and turn on the machine.
And again All in 1 capsules…
The use of All in 1 capsules is economical because it eliminates the need to add any polishing fluid. We also do not need salt, because our tablet has it. Also, the air freshener will become unnecessary when you use the tablet Tytan All in 1. It is most profitable to use tablets type All in 1 when you do not wash too much.
It is very important in case of All in 1 dishwasher tablets to choose one of the longer full dishwasher programs. This will ensure that the tablet dissolves and works properly. If you choose a short program, the tablet may not dissolve and the rest will remain on the dishes.
Why capsules for the dishwasher All in 1…
The main advantage of the product offered by us is everything in one. This guarantees cleanliness, freshness and protection of both dishes and dishwashers every time you wash them. The price definitely speaks in favour of the purchase. You are welcome.
Logistical info:
| | |
| --- | --- |
| Number of pieces per carton box: | 12 |
| Number on pallete: | 480 |
| Number of layers on pallete: | 5 |
| Number of carton box per layer: | 8 |
| Code EAN 13 produkt: | 5 900 657 660 105 |
| Code EAN 13 carton box: | 5 900 198 660 107 |
| Index: | T66010 |