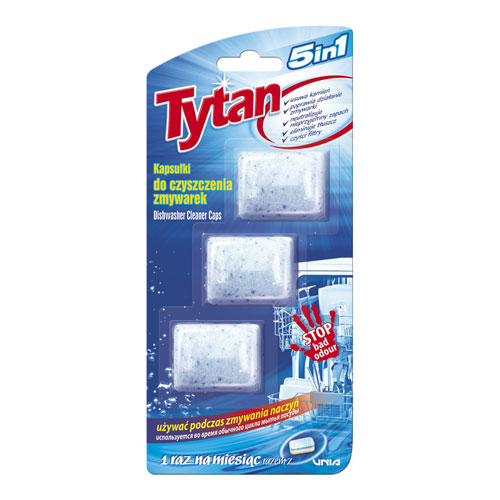 Capsules for cleaning dishwashers Titan 5in1 are a great solution to clean your dishwasher and refresh it at a great price.
Capsules for cleaning dishwashers Titan 5in1 – description
Grease and dirt collects in your dishwasher every day and can be removed regularly with the new Titan dishwasher capsules.
So once a month, in addition to detergent, put a capsule in the bottom of the dishwasher before washing. The capsule will clean your dishwasher during the wash cycle. You get three of these capsules when you buy them, so you keep your dishwasher clean and fresh for three months. There are only four such purchases a year, so it is worth spending less than 40 zlotys a year. In addition, capsules are ideal for any type of dishwasher. There is no dishwasher that would resist the charm of our agent. Once you've used it, you'll feel the difference with and without cleaning capsules.
Capsules for cleaning dishwashers Titan 5in1 – action
Capsules for cleaning dishwashers Titan 5in1 is a highly specialized product that:
Removes grease and scale during the standard washing cycle of your dishes.
Leave your dishwasher clean and odourless.
Provides protection for a long time and at an excellent price.
What's more…
You no longer need to clean the dishwasher by emptying the cooking cabinet and setting it to a long cleaning program. Don't waste time, water or money – take care of your dishwasher while washing dishes.
The product, when used regularly, significantly extends the life of the dishwasher. Thanks to the Tytan cleaning capsule, your dishwasher will remain hygienically clean and efficient for much longer. The capsule reaches even hard-to-reach areas such as shower arms, heaters and filters. A standard dishwasher capsule will not clean your equipment like this during a standard washing cycle. And here you get from us such an excellent product with great simplicity of use and a wide range of effects.
Why Tytan cleaning capsules…
Such an innovative product as ours is the perfect product for the proper protection and care of your dishwasher. When used once a month, it is convenient to use and very economical.
Logistical info:
| | |
| --- | --- |
| Code EAN 13 produkt: | 5 900 657 640 107 |
| Code EAN 13 carton box: | 5 900 198 640 109 |
| Index: | T64010 |