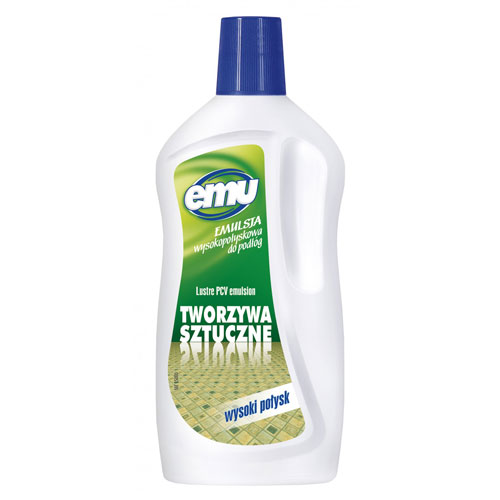 EMU Lustre PVC Emulsion 450g is a product designed for the care of PVC and linoleum floors. Thanks to a special recipe, it restores shine to cleaned surfaces and gives an aesthetic look.
EMU Lustre PVC Emulsion 450g – description
EMU Lustre PVC Emulsion 450g contains hard wax, which facilitates re-cleaning and protects against damage and excessive dirt.
If you want to achieve a beautiful shine and protect your floor against moisture and dirt, we recommend our high gloss emulsion. Thanks to the unique formula and the wax it contains, you will be able to enjoy a beautiful shine for longer.
Emulsion is a modern agent for care, polishing and maintenance of all types of floors. It can be used for varnished wooden floors, mosaics, parquet, floor panels, linoleum, PVC tiles.
In addition, the emulsion contains wax and acrylic substances, which protects the surface against dirt penetration and scratches. It also ensures a very long life and a sensational effect of polishing. It also does not reduce the anti-slip properties of the surface. Their high wear resistance ensures comfort of use for many years.
High gloss emulsion – action
After application, it does not require polishing and does not leave streaks. The product has a pleasant smell, which stays in the room for a long time. Another advantage is the fact that it does not need to be rinsed. So it is a very convenient way to get a beautiful shiny floor.
The price of our product deserves attention. For only 3.99 PLN/450g we offer you a product of really high quality and comprehensive action on your floor. The content of wax makes floors smooth and less susceptible to dirt and scratches. The emulsion protects wooden floors against moisture, which is very important in the case of older surfaces. We don't have to worry about spilling something or wanting to wash it more often with water and detergents.
That is why our product is a solution for comfortable and even lazy people. If you don't want to work too often and in sweat on your floor, you should choose our product. You will not regret the money and time spent on applying the emulsion, because it will pay off in the form of peace and satisfaction with which you will look at your floor in the future.
Logistical info:
| | |
| --- | --- |
| Number of pieces per carton box: | 20 szt. |
| Number on pallete: | 1000 szt. |
| Number of layers on pallete: | 5 |
| Number of carton box per layer: | 10 |
| Code EAN 13 produkt: | 5 900 657 013 703 |
| Code EAN 13 carton box: | 5 900 198 137 005 |
| Index: | P13700 |