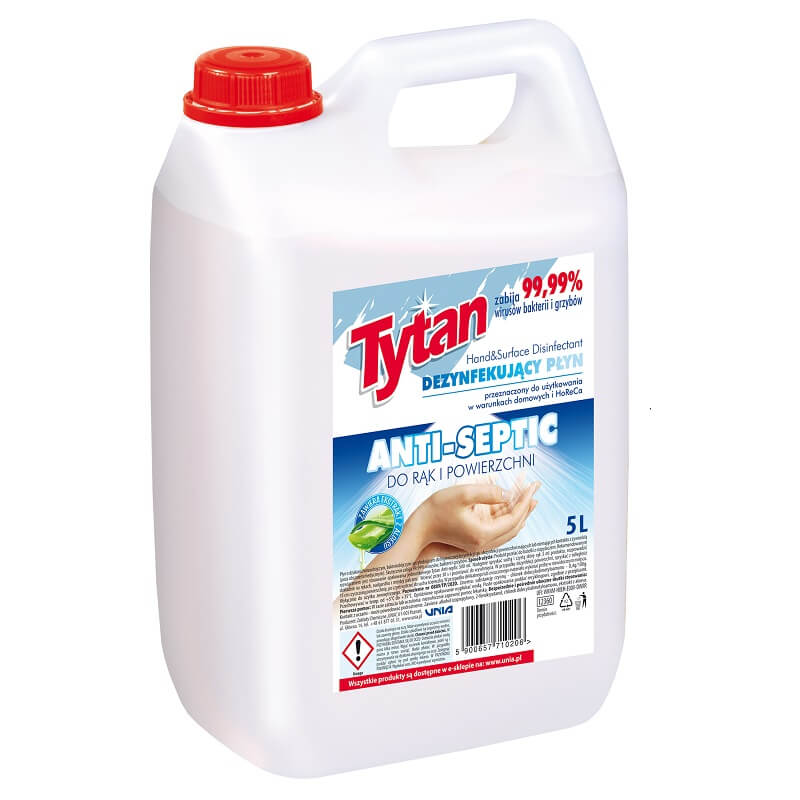 Liquid for disinfecting hands, skin and surfaces Tytan Anti-septic 5l
Product description
Specialist preparation Titan is designed for hygienic disinfection of hand skin and various surfaces. The composition of the product prevents the hands from drying out. Liquid for disinfecting hands, skin and surfaces Tytan Anti-septic 5kg activates its effects directly after use. It effectively kills all kinds of viruses, bacteria and fungi. For home and business use.
The product has been tested and obtained permission to be made available on the market by the Office for Registration of Medicinal Products, Medical Devices and Biocidal Products.
The product is intended for general and professional use..
Characteristics and application:
Preparation for hygienic disinfection of hand skin and various surfaces
Does not dry out the hand skin
Correctly fights viruses. bacteria, fungi
Antimid and prolonged action
Logistical info:
| | |
| --- | --- |
| Number of pieces per carton box: | 114 szt. |
| Number on pallete: | 3 |
| Number of carton box per layer: | 38 |
| Code EAN 13 product: | 5 900 657 710 206 |
| Index: | P71020 |