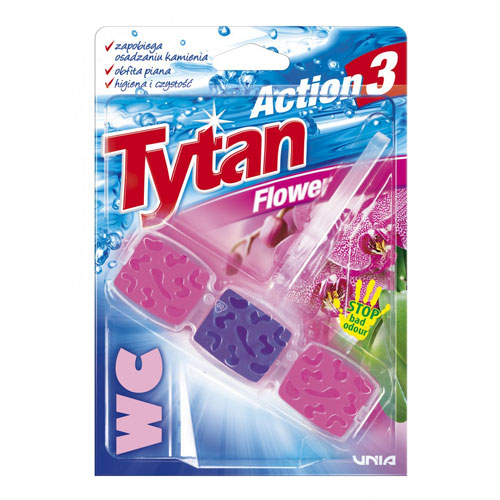 Tytan Action 3 Flower toilet cube will provide a clean, safe and limescale-free toilet at a good price.
Tytan Action 3 Flower toilet cube – description
Our floral-scented Titan Action 3 toilet cube takes care of hygiene in your toilet. It prevents scale buildup, leaves impeccable cleanliness, abundant foam, intense and pleasant scent! This is a cube of a new generation, which you will be convinced of after the first use!
A place where you should definitely and especially take care of cleanliness is the toilet. Because of this, it is particularly exposed to the rapid and continuous development of harmful germs, bacteria, fungi and mold.
Naturally floral-scented toilet cube Tytan Action 3 is designed for sanitary facilities. Specially selected composition of ingredients allows to achieve a triple action. The cube cleans, refreshes and leaves a rich foam. In addition, it prevents the formation of scale. The toilet cube is an invention almost as revolutionary as the flush toilet. It appeared in the mid-1960s. It completely changed the standards of hygiene and cleanliness. In addition, it improved sanitation in toilets and saved scrubbing.
Logistic information:
| | |
| --- | --- |
| Pcs per carton: | 13 szt |
| Pcs per pallet: | 1872 szt |
| Layers on pallet: | 8 |
| Cartons on layer: | 18 |
| Product EAN: | 5 900 657 532 303 |
| Carton EAN: | 5 900 198 532 305 |
| Index: | T53231 |
Zachęcamy Państwa do sprawdzenia pełnej oferty.
W razie jakichkolwiek pytań, zapraszamy do kontaktu!