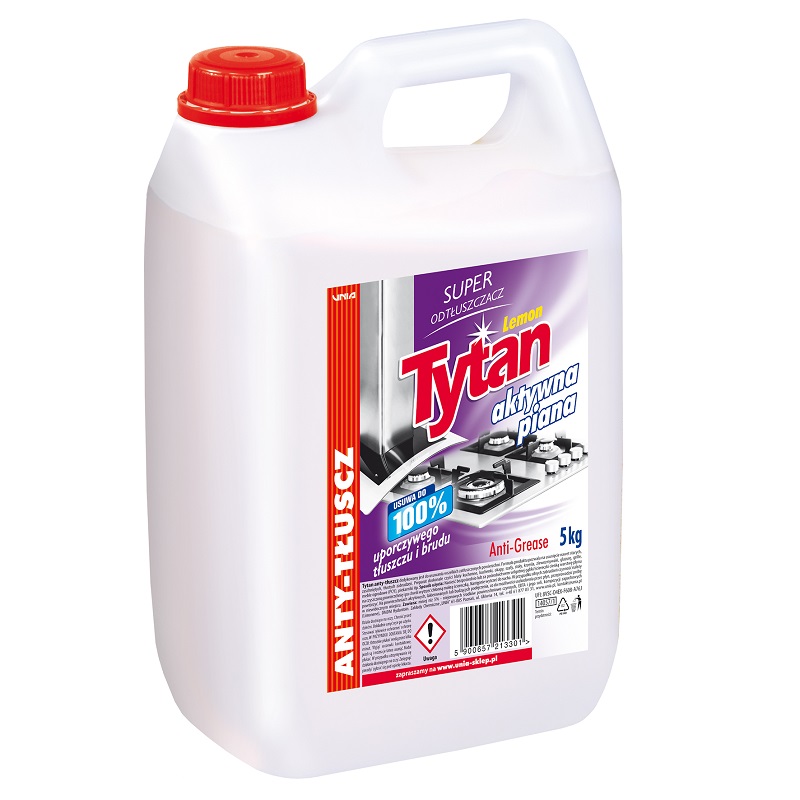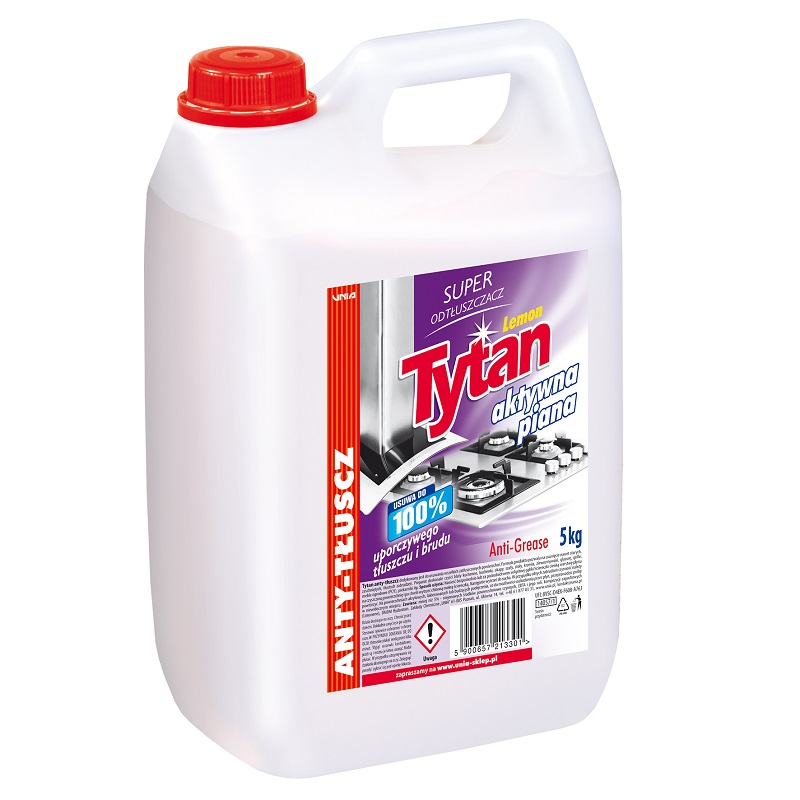 Tytan Anti-Grease 5kg
Universal degreaser Tytan Anti-Grease 5k is an excellent cleaning agent absolute for grease.
Tytan Universal degreaser Anti-Grease 5kg is dedicated to remove all greasy surfaces. The product formula and a special dual-function spray allow you to remove even old dried greasy dirt.
Tytan universal grease remover Anti-fat perfectly cleans kitchen worktops, stoves, hoods, cupboards, tables, chairs, sinks, tiles, grills, garden furniture (PVC), ovens, etc.
Logistical Information:
| | |
| --- | --- |
| Pieces per box: | |
| Pieces per pallet: | 114 pcs |
| Layers per pallet: | 3 |
| Cartons per layer: | |
| Product EAN code: | 5 900 657 213 301 |
| Carton EAN code: | |
| Index: | |
The most common type of stubborn stains in the kitchen are greasy, unpleasant and difficult to remove deposits. Grease evaporating during frying, deposited on hoods, ovens, housings of household appliances, kitchen worktops or spilled oil require the use of professional cleaners, i.e. degreasers! 
The degreaser we offer you is an essential product during the general cleaning of your kitchen. It is one of the best agents for removing grease residues that accumulate on the stove, refrigerator or other surfaces. Tytan Universal degreaser Anti-fat perfectly removes greasy dirt. from countertops, glass surfaces such as tiles, floors and tables. After use, the preparation leaves a shiny protective layer, making it easier to keep clean.
It is also important that the degreaser is efficient, easily and quickly removes burnt fat and can be used for surfaces in direct contact with food. Tytan Universal degreaser Anti-Fat is a highly concentrated product with an advanced formula that is able to cope with even the most stubborn stains, also suitable for use in catering facilities. 
How to use a degreaser?
Just apply the preparation on the cleaned surface, leave the foam for a few seconds until it dissolves difficult to remove dirt. Then wipe the washed surface with a damp cloth or sponge, the next step is to rinse everything with water and then wipe the surface dry. 
We encourage you to check our full offer.
If you have any questions, feel free to contact us!