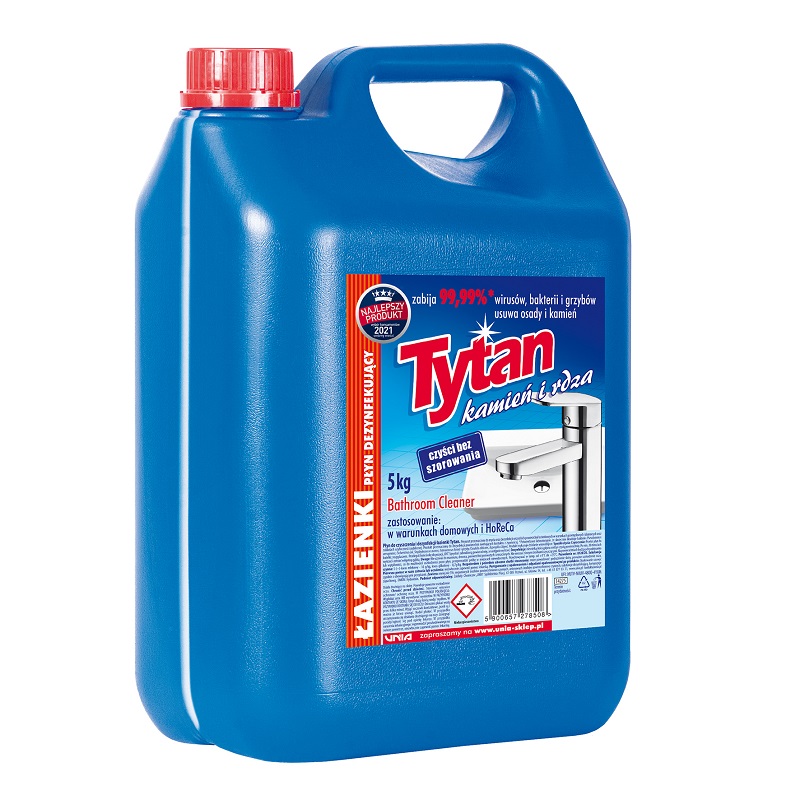 Tytan Bathroom Cleaning Gel extra 5kg is an excellent bathroom cleaner at a good price.
Tytan Bathroom Cleaning Gel effectively removes sediment from lime, rust, soap, water bruises, oil slicks and other dirt. It is designed for surfaces with chrome and stainless steel (kitchen sinks), glaze, sinks, bathtubs, glass, plastic (shower), bathroom fittings, and more.
Retains shine to a surface. It is easy to rinse, will not scratch the surface, leaves a long lasting fresh marine fragrance.
By developing a special formula product is very easy to use and does not require any force. Applied on dirty surfaces quickly dissolves all dirt and after rinsing it leaves it shiny, free from streaks and stains.
Logistical info:
| | |
| --- | --- |
| Number on pallete: | 114 szt. |
| Number of layers on pallete: | 3 |
| Number of carton box per layer: | 38 |
| Code EAN 13 produkt: | 5 900 657 278 508 |
| Index: | P27850 |