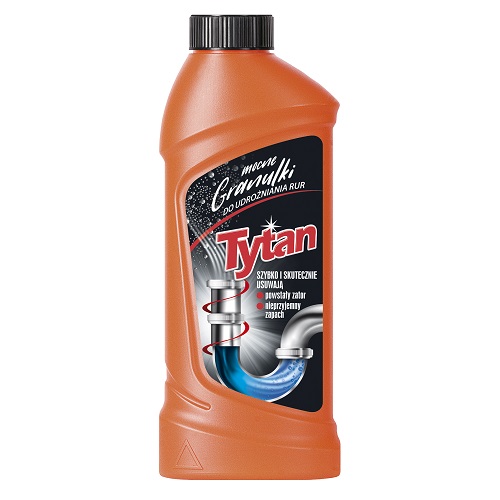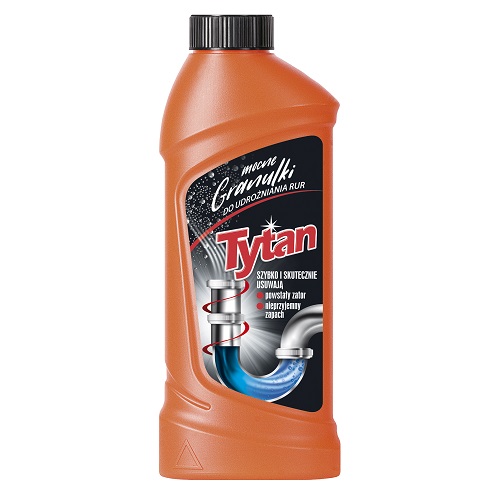 Tytan Drain Clogs Removing Granules 200g are intended for unblocking pipes at sinks, washbasins, bathtubs and other drainage systems.
Tytan Drain Clogs Removing Granules 200g – description
Tytan Drain Clogs Removing Granules 200g dissolve kitchen waste, hair, grease, paper, etc. They leave a fresh fragrance. It is not recommended to use them for aluminium.
Clogged drain in the shower, washbasin or bathtub often happens during use. Water then flows off slowly and something bubbles in the pipes. Our granules for unblocking pipes come to you with relief.
The biggest advantage of unblocking granules is their high efficiency. They cope perfectly even with serious blockages in our pipes. They remove hair, grease and other types of waste. In addition, it has a fungicidal and bactericidal effect. Usually one or two applications are enough to solve the problem. However, we must remember that it is an extremely expansive and corrosive agent. Therefore, during its use we should take appropriate precautions.
Tytan Drain Clogs Removing Granules – action
Tytan Drain Clogs Removing Granules are a stronger means than gels dedicated to these purposes. Do not forget to use protective gloves, as contact with the skin can be dangerous. The use of the product itself is simple. Pour the granules into the blockage area and pour in hot water. Then rinse off after approx. 30 minutes. This process can be repeated if necessary.
In addition to the direct effect of the granules in possible contact with the skin, we must also be careful of fumes. They may be irritating to the respiratory system and eyes, therefore after the application of the granules should leave the room and, if possible, ventilate them.
In conclusion, Tytan granules are an effective and easy to use means to unblock pipes and traps. However, they are not a miracle cure to eliminate the need for periodic manual cleaning of drain and drain traps. However, it will be possible to do this less frequently thanks to our product. When it comes to cleaning the pipe flow itself, the granules are invaluable and absolute for contaminants.
Logistical info:
| | |
| --- | --- |
| Number of pieces per carton box: | 20 szt. |
| Number on pallete: | 1680 szt. |
| Number of layers on pallete: | 7 |
| Number of carton box per layer: | 12 |
| Code EAN 13 produkt: | 5 900 657 307 208 |
| Code EAN 13 carton box: | 5 900 198 307 200 |
| Index: | T30720 |