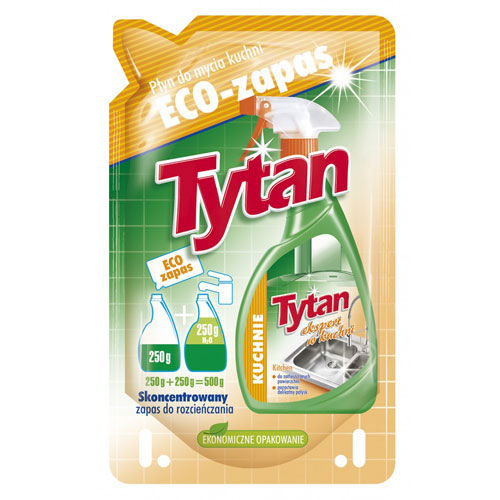 Tytan Kitchen Cleaning Liquid ECO Refill is a great cleaner in the kitchen in an economical package.
Tytan Kitchen Cleaning Liquid is destined for cleaning many types of
soils. It effectively removes dirt, grease and sediment resulting from
the fat on hot plates, ovens, microwave ovens, hoods, countertops,
cupboards, sinks, tiles and other surfaces. Ideal for cleaning PVC
window frames. Depending on what type of soil you will want to deal
with, you can use two different ways to work by rotating the head. With
Tytan in your kitchen there will be law and order.
Logistical info:
| | |
| --- | --- |
| Content: | 250g |
| Number of pieces per carton box: | 18 szt. |
| Number on pallete: | 2160 szt. |
| Number of layers on pallete: | 8 |
| Number of carton box per layer: | 15 |
| Code EAN 13 produkt: | 5 900 657 275 309 |
| Code EAN 13 carton box: | 5 900 198 275 301 |
| Index: | T27530 |