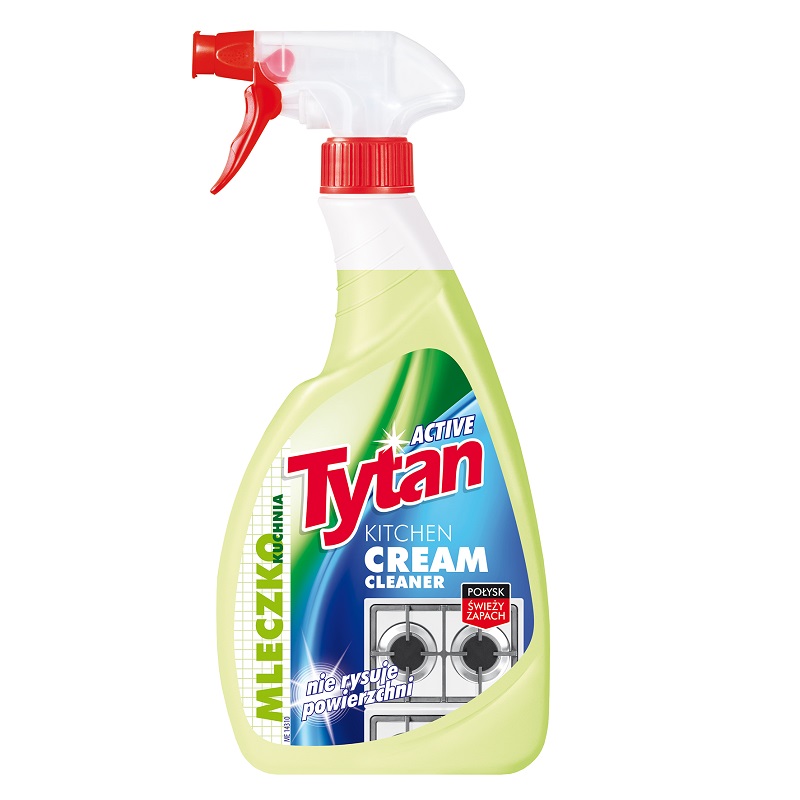 Tytan Kitchen Cream Cleaner Spray 500g is a good solution for care about cleanliness in kitchen in good price
Tytan Kitchen Cream Cleaner Spray – description
Our product Tytan Kitchen Cream Cleaner is designed to clean kitchen dirt. It effectively removes dirt, grease and grease deposits on hobs, cookers, microwave ovens, hoods, worktops, cabinets, sinks, hobs and other surfaces.
Spray milk is an ideal agent for cleaning the kitchen, thanks to its excellent recipe. It does not require scrubbing. You can apply it in a convenient way by spraying it on the cleaned surface. You can remove any dirt, even the most troublesome dirt in the form of limescale, soap deposits or burnt fat or food. You can clean every surface in your kitchen. You can easily apply them to enamelled or ceramic surfaces as well as metal sinks.
Kitchen Cream Cleaner – action
After a thorough rinse, you will not leave any streaks on the cream and ensure that the surface to be cleaned is clean and shiny. In addition, you will also achieve a pleasant fragrance.
Another ergonomic advantage of Tytan cream cleaner spray is that it lies well in your hand and is easy to apply. At the same time, it is gentle on the hands, which puts it even higher in the hierarchy of high quality measures.
Milk is much less invasive than cleaning paste. Pastes, both fine and coarse, can damage the enamelled surface. Therefore, the milk is superior to them, especially in the case of soiling that has not penetrated the structure of the surface to be cleaned. Difficult soiling can be left to act for longer and after a while wipe and rinse. What is impossible for universal liquids is perfectly dedicated for our milk.
Nevertheless, one should remember not to use Tytan cream cleaner for linoleum and textile materials. If you are not sure whether the milk will damage your surface, apply it on a small part.
Why Tytan Cream Cleaner…
To sum up, Tytan Kitchen Cream Cleaner is an essential ingredient for any housewife or host. It is very convenient to apply and can be purchased at a great price.
Logistical info:
| | |
| --- | --- |
| Number of pieces per carton box: | 12 szt. |
| Number on pallete: | 780 szt. |
| Number of layers on pallete: | 5 |
| Number of carton box per layer: | 13 |
| Code EAN 13 produkt: | 5 900 657 215 206 |
| Code EAN 13 carton box: | 5 900 198 215 208 |
| Index: | P21520 |