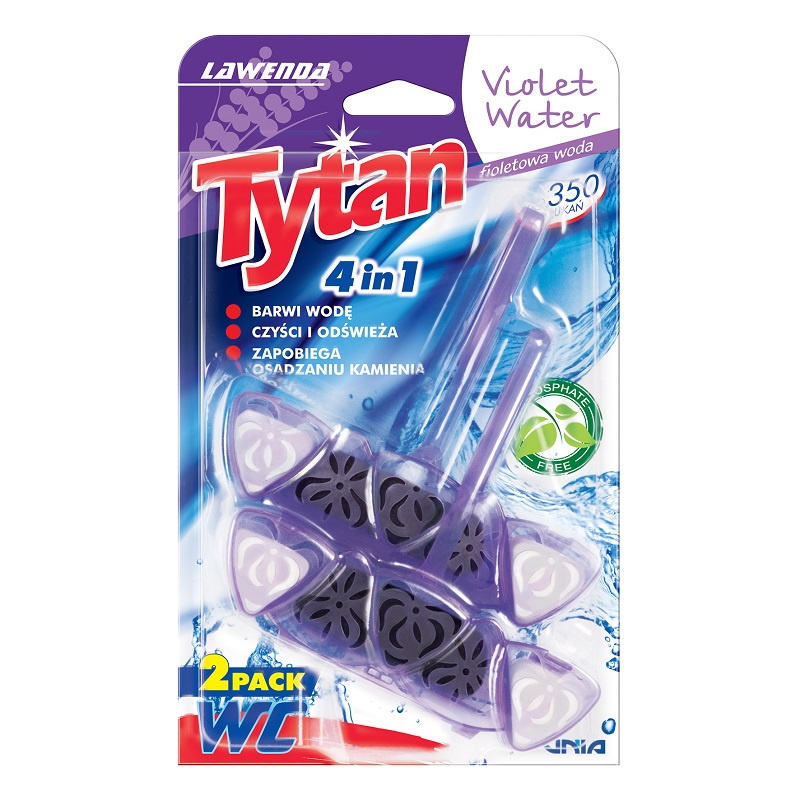 Tytan Tetrafunctional Automatic Toilet Bowl Liquid Cleaner Violet Water is a perfect choice for each toilet
Tytan Tetrafunctional Automatic Toilet Bowl Liquid Cleaner Violet Water – description
Tytan Tetrafunctional Automatic Toilet Bowl Liquid Cleaner Violet Water cleans, refreshes and protects the bowl against scale. It can be adjusted to any toilet bowl, it is very easy to use. An additional advantage of Violet Water cube is the fact that it colours the water violet, which increase aesthetic values.
The main reason for using a WC hanger is convenience of use and cleanliness and freshness after each flush without scrubbing with a toilet brush. The four functions that we offer you through our product are: thorough cleanliness, disinfection, fresh aroma and prevention of limescale deposits. The green colour of the water is naturally not insignificant. It gives an additional effect of freshness and cleanliness.
The principle of operation of the hanger.
It is well known that cleanliness and freshness in the toilet is not only a matter of aesthetics. It is also, or rather above all, hygiene and safety. The sludge that accumulates on the shell walls is a paradise for the development of bacteria and viruses, fungi and mould. This is followed directly by a health hazard. Despite scrubbing with a brush and using a toilet cleaner, we do not provide protection against microbes. This is where the four-function Titan WC hanger comes in with relief, which works in contact with water during and after each rinse. It converts water into a specialist toilet-washing liquid. Consequently, it does not allow the development of bacterial flora, fungi and mould. We can sleep peacefully, thinking that our toilet is free not only from dirt, but also from viruses, bacteria, mould and fungi.
In addition, the four-function hanger for toilet provides an extraordinary quality of operation at a very competitive price. Thanks to this, we can boast of good opinions of our customers. Those who decide to use our product once, praise it and stay with us for longer.
Logistic info:
| | |
| --- | --- |
| Number of pieces per carton box: | 12 szt. |
| Number on pallete: | 1728 szt. |
| Number of layers on pallete: | 8 |
| Number of carton box per layer: | 18 |
| Code EAN of the product: | 5 900 657 513 302 |
| Code EAN of the carton box: | 5 900 198 513 304 |
| Index: | T51330 |