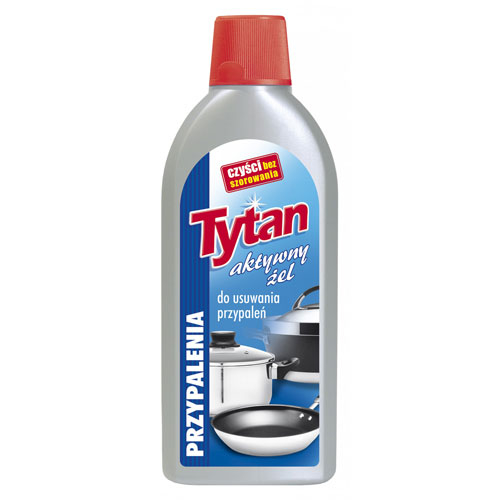 Tytan Burn Removing Active Gel 500g is an active gel for removing burns. It is a product of excellent quality, which is why we offer it to you with full awareness.
Tytan Burn Removing Active Gel 500g – description
Active Burn Removal Gel is a product from the family of products designed to remove troublesome burns. It is used mainly because the anionic detergents contained in it dissolve the burns quickly and effectively. They are excellent when it comes to fat, meat, potatoes, fish, pasta, etc. The natural dyes left over after cooking, such as coffee, tea, buckwheat, etc., are not a problem either.
In addition, a dense gel formula allows longer adhesion to the surfaces to be cleaned. This significantly prolongs the working time of the active agents in the cleaning process.
Therefore, Titanium active burner removal gel is designed to remove burns from ovens, grates, pans, pans, pans, pots, baking trays or cake trays, ceramic vessels, etc. It can also be used to remove burns from the surfaces to be cleaned.
It does not damage the surface. Restores shine to enamelled and stainless steel pots, ceramic and heat-resistant vessels.
Choose Tytan and You will be satisfied
An important aspect is that the Active Burning Remover Gel Tytan 500g is extremely effective. This can be seen in thinner layers of burns. In this case, all you need is a little gel applied to the burnt area. Unlike other agents, it is enough to wait here and then easily wash it off together with the burn. Besides, our product is safe for the surface to be cleaned. This is because it does not require scrubbing and also only penetrates into the burnt layer and not into the cleaned structure of the dish, pot or oven. We can safely use it and it will not damage our enamel or Teflon.
It is noteworthy that the active Titan gel meets with very good opinions of our customers. Their satisfaction results from our concern to offer a high quality product. We reach out to our customers offering the convenience of using the product and guaranteeing satisfaction, and at the same time reasonable price.
Conclusion: Titan active gel is an excellent detergent for removing burns. It will surely become an indispensable attribute of your home and will be an essential measure in the process of taking care of hygiene in the kitchen and beyond.
Logistical info:
| | |
| --- | --- |
| Number of pieces per carton box: | 18 szt. |
| Number on pallete: | 1080 szt. |
| Number of layers on pallete: | 5 |
| Number of carton box per layer: | 12 |
| Code EAN 13 produkt: | 5 900 657 028 233 |
| Code EAN 13 carton box: | 5 900 198 028 235 |
| Index: | P28230 |