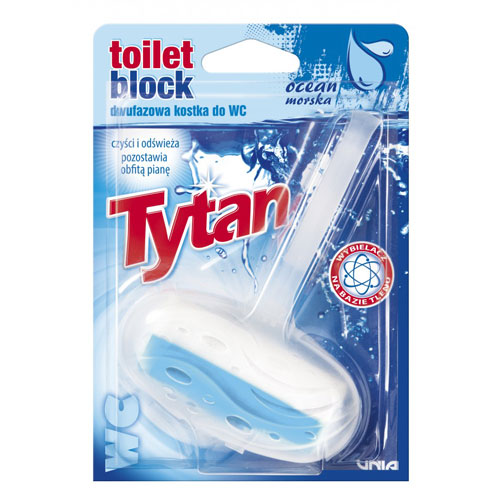 Tytan Double-phase Toilet Bowl Cleaning Cube Ocean 40g is a perfect choice for any toilet
Tytan Double-phase Toilet Bowl Cleaning Cube Ocean – description
A place where you should definitely and especially take care of cleanliness is a toilet. Because of this, it is particularly exposed to the rapid and continuous development of harmful germs, bacteria, fungi and mould.
The Tytan two-phase toilet cube is designed for sanitary facilities. Specially selected composition of components allows to achieve triple action. The cube cleans, refreshes and leaves a rich foam. WC block is an invention almost as revolutionary as a toilet with a flush. It appeared in the mid-1960s. It completely changed the standards of hygiene and cleanliness. In addition, it improved sanitary conditions in toilets and saved scrubbing. In addition, it's very easy to use, as it's enough to hang it on the toilet shore.
Two-phase Tytan WC cube hung in a special basket refreshes and cleans the interior of the shell to a small degree. Also, the toilet bowl often contains substances that prevent scale build-up. Stone, as we know, destroys the device and can facilitate the development of bacteria and fungi. Thanks to the hanger to the toilet our toilet will always be fresh, clean, and unpleasant smell will quickly evaporate. This is due to the fact that with each flush, the water will turn into a liquid acting on the surface of the shell. Apart from cleaning and disinfecting it, it will leave a fresh fragrance for a longer time without the need to use toilet liquid.
Toilet cube – principle of operation
Our toilet cube has two phases of action. In the first one it disinfects and cleans, in the second one it colours the water and refreshes the toilet. Thanks to this, we have comprehensive protection of the toilet and less often we reach for the toilet cleaning brush. This is the direct result of our satisfaction that we offer you such an innovative product. You will also be satisfied with the use of our toilet brushes. After using it, you will not replace it with another one, unless you only change the smell to avoid monotony.
Tytan Double-phase Toilet Bowl Cleaning Cube guarantees cleanliness, protection against bacteria and a pleasant lemon scent after every rinse. This will make your stay in the toilet more enjoyable.
Logistical info:
| | |
| --- | --- |
| Number of pieces per carton box: | 24 szt. |
| Number on pallete: | 3360 szt. |
| Number of layers on pallete: | 10 |
| Number of carton box per layer: | 14 |
| Code EAN 13 produkt: | 5 900 657 510 301 |
| Code EAN 13 carton box: | 5 900 198 510 303 |
| Index: | T510300 |