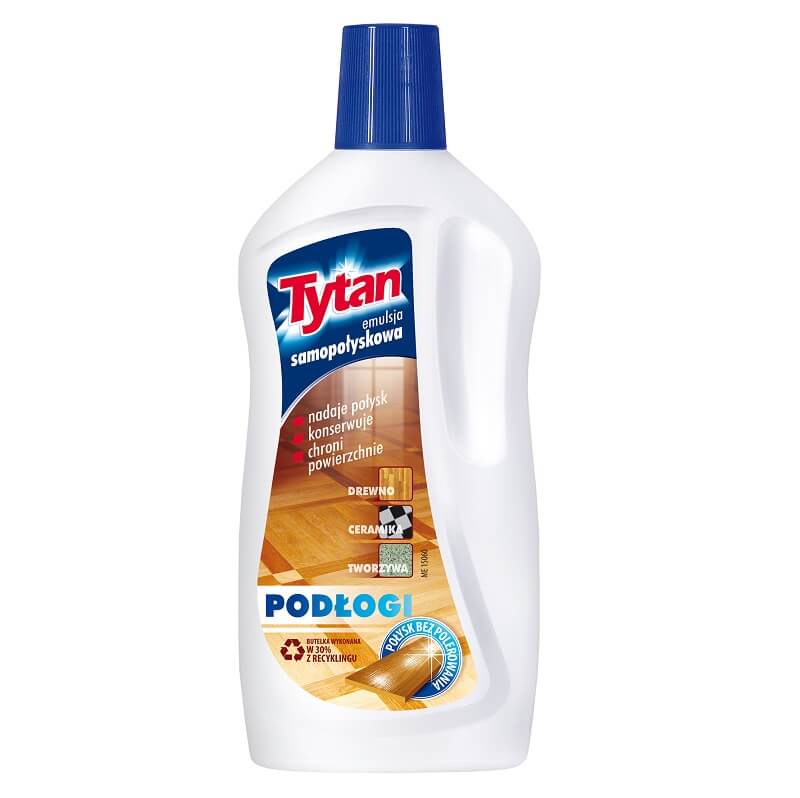 Tytan Floor Maintenance Liquid 450g is a perfect product for floor in very attractive price
Tytan Floor Maintenance Liquid 450g – description
Tytan Floor Maintenance Liquid 450g is based on high quality components that guarantee long-lasting protection and high gloss. It forms a protective layer, protects against dirt settlement and surface abrasion. Tytan 450g floor emulsion is designed for the care and maintenance of plastic floors, wooden and painted floors, parquet floors, wooden mosaics, ceramic tile floors.
Tytan emulsion can be used to clean and maintain smaller surfaces in apartments, but it can also be used for larger storage or office spaces. It can also be successfully applied to restaurant surfaces. Thanks to its excellent formula it provides protection and high gloss for a long time and gives the floor a beautiful look. This means that we have many satisfied customers who return to our store and reach for our product again.
Tytan emulsion – principle of operation
However, to enjoy the shine and beautiful appearance of your floor longer, you should clean the surface before applying it. When used for the first time, it is also advisable to degrease the surface. After degreasing, you should thoroughly clean the floor. This can be done with our floor remover. You will also find it in our shop.
In case of soft or porous wood, use two layers of emulsion. The first one will cover unevenness and the second one will give your floor a shine. Apply the second coat approx. 40 minutes after applying the first one. To give your floor an even better shine, you can apply a third coat of emulsion. If you only want a non-slip and satin finish, stay with the first coat.
Our emulsion is the solution for comfortable and even lazy customers. That's because you can wash less often and not worry about the fact that it looks bad. The beautiful look of your floor will keep your eye on it for a long time to come. At the same time, you will not be able to repair yourself very much.
First choose a smaller bottle of 450g to see if our product suits you and if you have a smaller surface to wash and care for. If you have already decided, and we guarantee you will, consider buying a larger 5kg bottle.
Thank you and we encourage you to purchase.
Logistical info:
| | |
| --- | --- |
| Number of pieces per carton box: | 20 szt. |
| Number on pallete: | 1000 szt. |
| Number of layers on pallete: | 5 |
| Number of carton box per layer: | 10 |
| Code EAN 13 produkt: | 5 900 657 013 406 |
| Code EAN 13 carton box: | 5 900 198 013 408 |
| Index: | P13400 |